How to make a statement this party season - Toolally team picks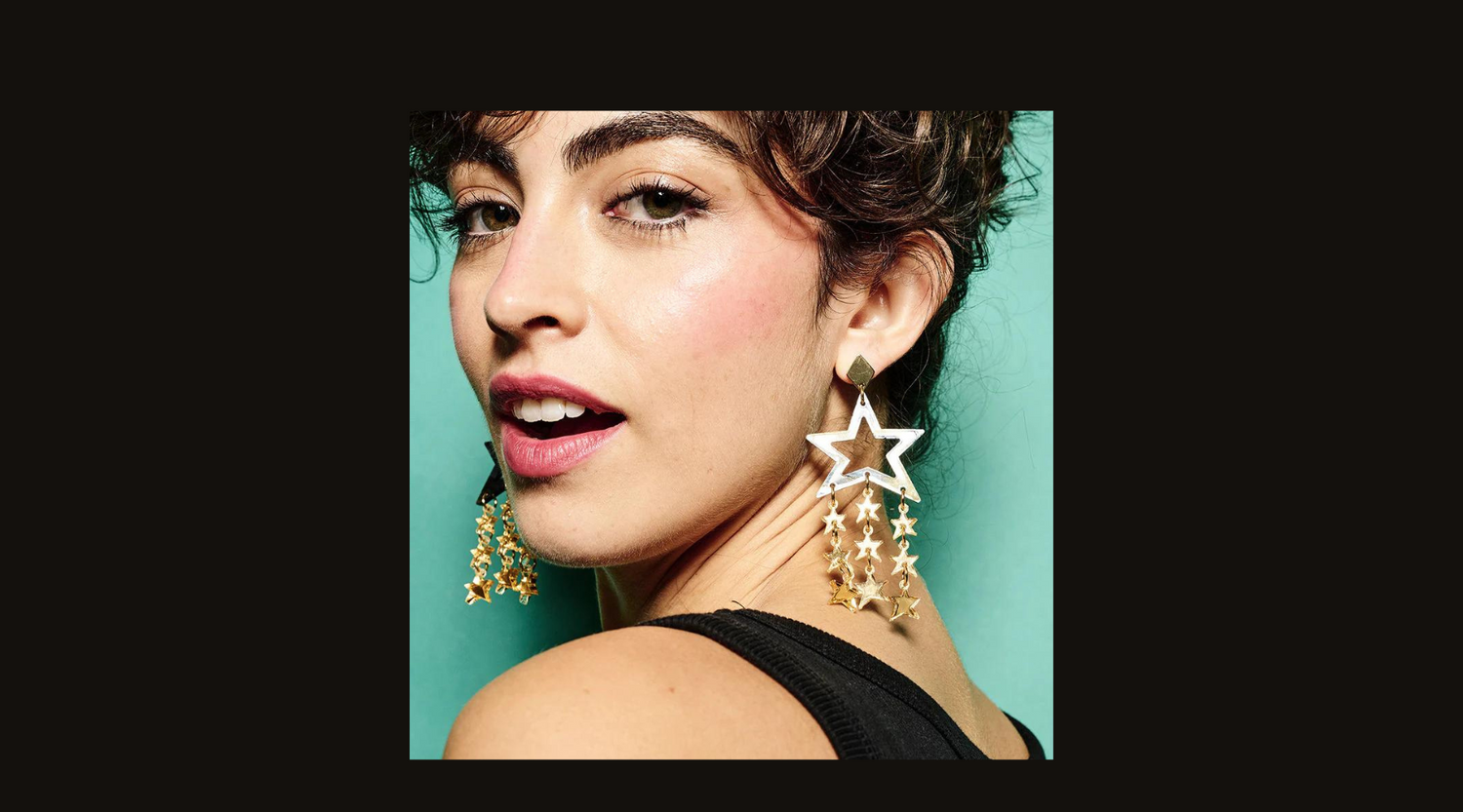 Party season is almost upon us and there has never been a better time to get noticed.
The Toolally mantra is all about Staying Fearless and choosing bold jewellery that stands out and reflects your personality. Statement jewellery is the best way to finish off your party look perfectly and at this time of year, there's no such thing as overdressed. 
To help inspire your party picks, the fabulous Toolally team have chosen their favourite pieces to bring the glamour this festive season, whether it be your annual big office party or a Christmas night out with friends. Compliments guaranteed! 
Mags, our Founder & Creative Director, with much deliberation, chose our Crescent Hoops in Gold Vermeil.
As the designer behind Toolally, it was almost impossible for her to pick a favourite, but these beauties just snuck in! They are the perfect attention grabbing statement with plenty of sparkle for your Christmas party.  
Kate, our Production Manager chose these showstopper Star Chandelier Earrings in Inky Black and Gold.
'I love a sparkly dress during party season-the more sequins the better! I think these are really fun, and the perfect style to elevate a glam party look!'
Naomi A, our Social Media Manager chose the stunning and versatile Flick Earrings in Gold Vermeil & Cubic Zirconia. 
'I just love the shape of these plus they've got a bit of party bling going on. I know they'll go with any going out out look'
Parris, Studio Assistant & Maker brought a bit of 60s fun to our party picks and chose the Flower Chandeliers in Cerise & Orange. 
'I love the Flower Chandeliers. I'm all about retro outfits and bright colours, plus I will always choose the biggest and boldest earrings for a party outfit - they need to be the star of the show!'
Jen, Graphic Designer, chose The Chain in Gold. The ultimate statement necklace. 
Jen says 'I love what a statement piece it is. Whether you're wearing a classic LBD or something more sparkly - it goes with both and elevates your look. Plus it is extremely versatile in how you wear it, giving you so many more options!'
Naomi D, who looks after PR & Partnerships, chose the ever-popular party perfect Flick Earrings in Sterling Silver & Cubic Zirconia. 
'This Christmas, my party look will be festive red worn with white and I'll be adding some seasonal sparkle with the Flicks embellished with CZ for extra shine'
Lauren, our Studio Assistant & Maker cast another vote for the striking Star Chandeliers, choosing the Green Glitter versions guaranteed to grab attention. 
'They are perfect for the ultimate party look! I love how the iridescent changes colour, and they are so light you barely notice you're wearing them.'