Accessories for every wedding in your calendar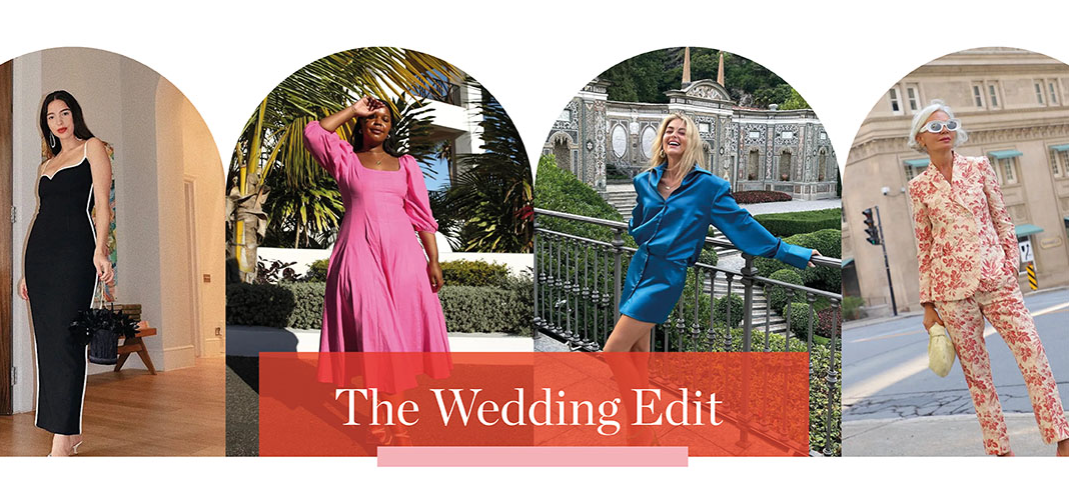 Wedding season is in full swing, so it's time to nail down your celebratory attire. Dress the part for those upcoming nuptials with our pick of event-ready accessories.
While watching a loved-up couple say 'I do' is one of life's great joys, it's also a rare opportunity to wear something fancy. And post-pandemic, after months on end of wearing nothing but loungewear, we're all desperate for reasons to go big in the outfit department. Nonetheless, when it comes time to pick the right pieces, wedding etiquette and tricky dress codes can leave you feeling sartorially frozen. But good news: we've done the hard work for you.
Maybe your calendar is steadily filling up, or perhaps there's one important ceremony you're itching with excitement for. Whatever brought you here, our curation of wedding accessories caters to every genre of celebration. Scroll on to get inspired and RSVP with confidence.
    Image credit: @styleidealist
 If you're lucky enough to have scored an invite to overseas nuptials, take advantage and fully embrace this special moment in the sun. Whether the magic is due to happen in a whitewashed Greek church, a Provençal barn or atop a rolling Tuscan hill, the enviable event calls for easy, breezy getup. Our number one rule: if sand is involved, steer clear of stilettos.
You'll likely want to stick to breathable, lightweight fabrics for ceremonies south of the equator, and it's worth considering midi-length hemlines to let your skin show. Wear a flowy cotton dress or structured linen suit with understated earrings from Toolally's fine jewellery collection. A touch of our gold vermeil will imbue your outfit with sophistication, class and a little bit of glitz – it is a party, after all. Finally, tuck a cashmere scarf into your clutch to drape over your shoulders as the sun dips out of sight.
Image credit: @bettinalooney
 Summer fling-turned-lifelong romance? We all know the story. The expression 'when you know, you know' wasn't plucked out of thin air; sometimes the decision to tie the knot comes relatively early on. And in the spirit of certainty, the loved-up couple may not want to wait around to solidify their commitment.
For short-notice gatherings, the best option is to sift through your existing wardrobe and re-style something you already own. If you want to zhuzh it up with an element of newness, why not take a look at our statement handbags? These unique hand-printed pieces are designed in collaboration with local artists and sustainably made in the UK. Choose your perfect plus-one to transform even the most minimal of dresses.
Image credit: @emilisindlev
At a wedding with a guest list as long as the Great Wall of China, you might want to stand out from the crowd – without outshining the bride, of course. We suggest focussing on the colour you feel most confident in (unless that colour is white), and opting for conversation-starting accessories. What better way to break the ice with your fellow attendees?
Consult our edit of eye-catching earrings and find a wow-factor pair to lift your celebratory look. We're partial to a bold shade at Toolally, and with our palette of royal blues, emerald greens and lipstick reds, you can create a matching ensemble with whichever power hue you choose to don. A luxurious scarf from our cashmere collection will add a unique splash of pattern; wear yours as a shrug, or fashion it into a hair bow to achieve top-to-toe glamour.
 Image credit: @greceghanem
 Maybe you're prepping to shower that perfect pair in confetti alongside the most important people in their lives. Best friends, siblings, parents and lifelong comrades – each seat at the table has been carefully considered for this kind of wedding, so well done to you for making the cut. Some couples prefer to mark the occasion in a low-key manner, which gives you permission to keep your outfit fairly informal. No black tie dress codes to worry about here. Instead, keep the focus on the bride and show up in something polished yet understated.
Look to our Hearts and Flowers collection for romantic pieces that capture the mood of the event. From subtle studs to elegant drop silhouettes, these soft accessories will complement pastel-hued dresses and floral print numbers. Add the finishing touch with an equally delicate necklace and voilà, you're wedding guest ready.